2017 Mercedes-Benz E-Class vs. the 2017 BMW 5 Series
The Floyd Mayweather vs. Conor McGregor world tour is in our rear view mirror. However; that doesn't mean we're not still excited about the most anticipated fight of the year taking place this month on August 26th!
If you're excited about the Mayweather vs. McGregor face off, then you'll be fired up about our take on these two German brand vehicles sharing a boxing ring. Take a glimpse at our two competitors.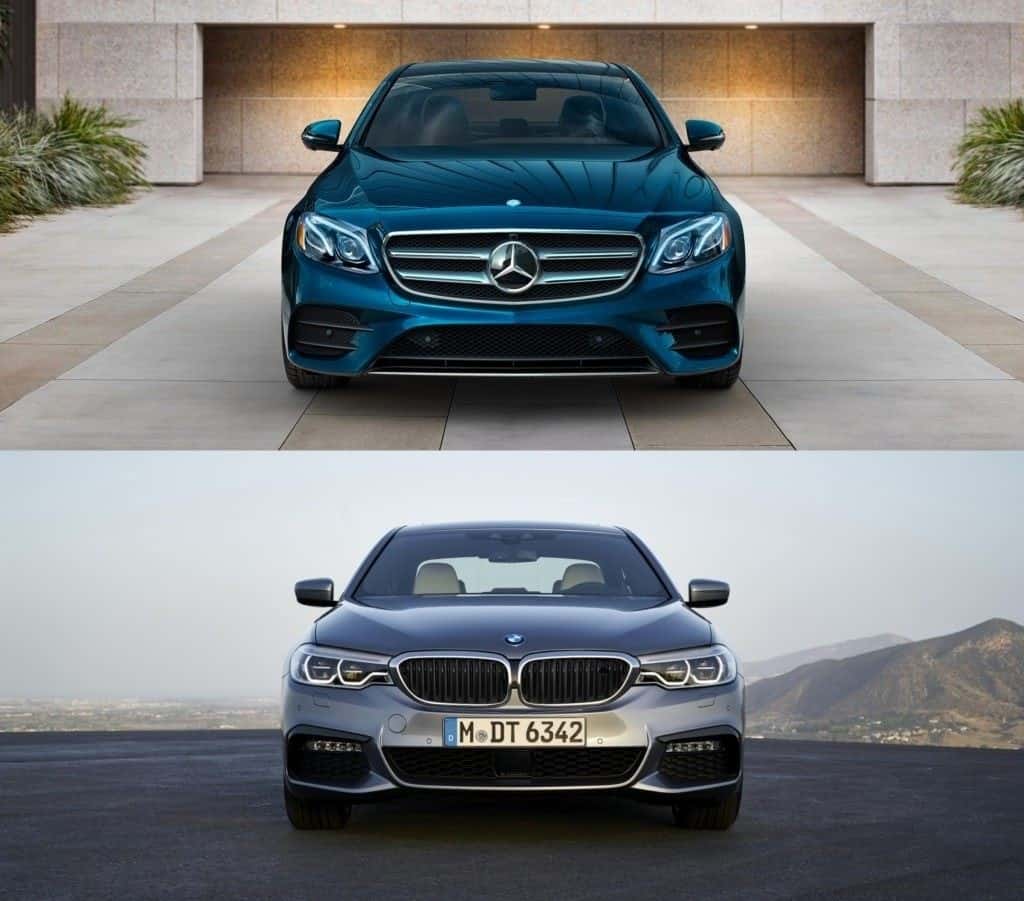 In one corner we have the 2017 Mercedes-Benz E-Class, and in the other, the 2017 BMW 5 Series; each fighting for the title of Best Luxury Vehicle for You.
It's no secret that Mercedes-Benz and BMW are the two most popular German brands of luxury cars. With BMW's recent debut of its 5 Series, the E-Class finally has a new rival.
So the question we've all been itching to find out. Which is better? The Mercedes-Benz E-Class or the BMW 5 series?
The 2017 Mercedes-Benz E-Class set the bar pretty high after its launch in early 2016, boasting its ground-breaking innovation, technology, luxury, and safety. BMW didn't fall far behind. It launched interesting options and new features too.
What's New:BMW 5 Series 7th generations vs. 6th generation
Changes in headlights and wider taillights
Opening and closing function in kidney grille
Freestanding iDrive screen controlled by touch, gesture, voice, and iDrive controller
Ambient lighting
What's New: Mercedes-Benz E 300 10th generation vs. 9th generation
All new interior and exterior design
Improved transmission, more efficient engine
Larger COMAND screen, new navigation with NTG 5.5, and 64 colors of ambient light
A host of breakthrough standard and optional safety systems
Since its 2016 debut, the 2017 Mercedes-Benz E-Class has earned many accolades including the 2017 'World Luxury Car,' beating out the BMW 5 series. It's also won Kelley Blue Book's 'Best Auto Tech Award: Luxury', and ranked  #1 out of the 15 finalists for Mid-sized Luxury Car by US News & World Report.
Under the Hood
The two vehicles are top performers for sure. If you're looking for speed, the 530i offers a 248-hp engine with 258 lb-ft of torque. However, we all know it takes more torque to get a car moving. For that reason, the Mercedes-Benz E 300 puts in work with 273 lb-ft of torque and 241-hp. While the 530i has 8-speed gears, the E-class continues to step it up a notch with its superior 9G-TRONIC 9-speed transmission.
An Inside Look
It's all about comfort and luxury for these two models, but let's dives in to see which vehicle's interior is better.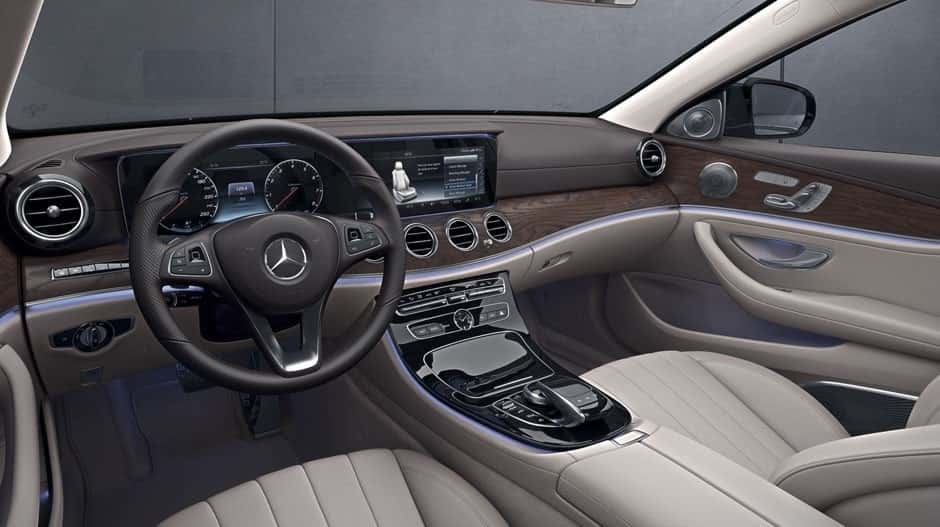 You may be a fan of the "Notorious" BMW, but if you're looking for sensual beauty modeled after the Mercedes-Benz S-Class, the E-Class both knows how to walk the walk and talk the talk. The E 300 features a 12.3-inch COMAND display beautifully integrated into the dashboard while the 530i's 10.25-inch screen sits on top. For added safety, keep your hands on the wheel and eyes on the road while navigating through the Mercedes-Benz screen. It features touch control buttons to allow the driver to focus on the road unlike the touchscreen found in the 5 Series.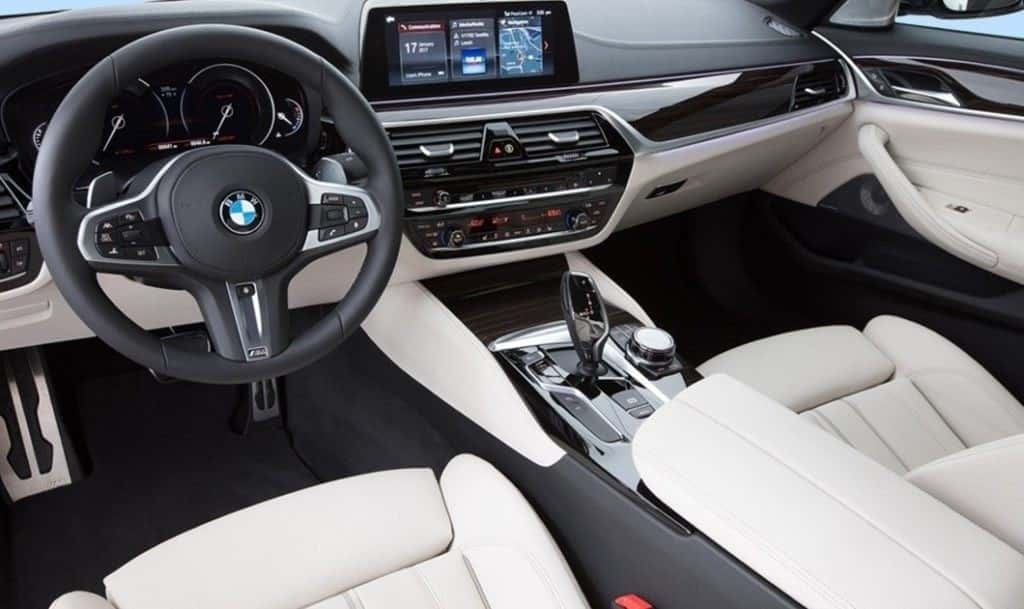 Advanced Technology
You can find a suite of intuitive technologies integrated into both of these models, but should you have to pay more to receive them? Mercedes-Benz doesn't believe so. For that reason, the E-Class offers standard Safety technology and advanced technologies to never leave you vulnerable such as:
ATTENTION ASSIST
Active Brake Assist
Crosswind Assist
Car-to-X Communication
PRE-SAFE®
PRE-SAFE SOUND®
You can also opt to include additional safety technology features not found in the BMW 5 Series such as:
Active Speed Limit Assist
Active Lane Change Assist
PRE-SAFE® Impulse Side
Evasive Steering Assist
Active Lane Assist
As you can see, the answer to which vehicle is better is obvious; but don't let us try and convince you. Determine who the winner is yourself. Schedule a Test Drive with one of our experts and take home your dream car today.