How Are the 2019 Mercedes-Benz A-Class Reviews?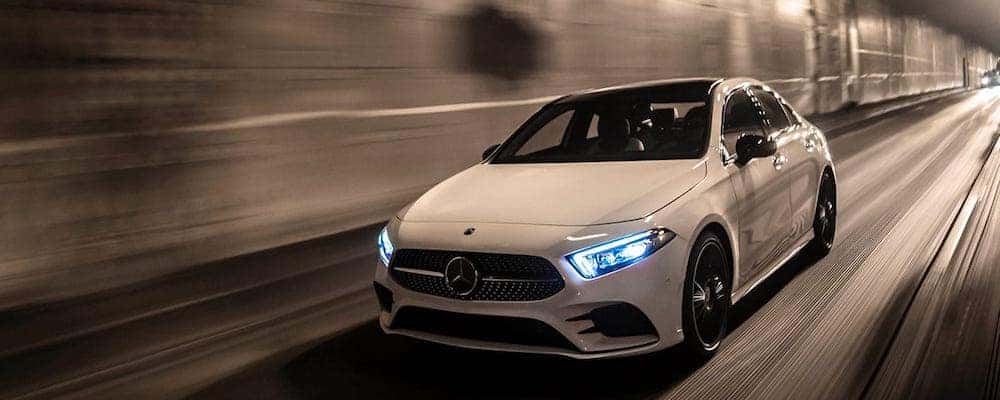 The 2019 Mercedes-Benz A-Class reviews are in! Edmunds reports that Mercedes-Benz "has made an equivalent of a hole-in-one as the new A-Class handily claims the top spot among entry-level luxury sedans." Watch our in-depth Mercedes-Benz A-Class review and feature showcase video below to learn more about this exciting introduction to the Mercedes-Benz lineup for Ewa Beach drivers!
Video Transcription: Our Mercedes-Benz A-Class Review
Aloha, and welcome to Mercedes-Benz of Honolulu! My name is Dale Payson, and it is my honor to introduce you to the latest Mercedes-Benz, the all-new A-Class.  Mercedes-Benz is the oldest car company in the world, many people don't know that. Started first in 1886 when Karl Benz received a patent on the first internal combustion engine car. Since then, Mercedes-Benz is looked upon around the world as the luxury mark. But a Mercedes-Benz is more than just luxury. There are actually three prongs: luxury, safety, and performance. 

From a safety standpoint, this car has 600 pounds of high-strength steel protecting its occupants in a safety cage, much like the roll cage in a race car. Also, the newest technology is autonomous braking, a Mercedes technology that they do license to the other companies. In the event of you taking your eyes off the road, and somebody stopping dead in front of you, this car will just stop by itself. Using quality materials, rather than plastic and rubber knobs, everything is wrapped in metal. Everything is the highest quality available. 

And performance. All Mercedes-Benz go! This has a Mercedes-Benz 4-cylinder turbocharged engine that will put this car from 0-60 in about 6 seconds. But with this car, it's a benchmark for the automotive industry. It's always been said if you want to see what's going to be on future cars, go see what's on a Mercedes-Benz today. 

Just like that. 

The small size of the car from the outside is deceiving, because it's really spacious inside. Lots of first and second-row foot room. Plenty of room in the back for two adults. And ergonomically designed seats. It just ensconses you with luxury. I'm going to get in, and we're going to play with some of the stuff. 

With a Mercedes-Benz, everything is where you expect it. And with this car, I can put my hands on the wheel, I can control everything: my screens, my volume, answering the phone, everything right from the screen. I have touchpads here. And you see that this screen, these are two 10.3-inch LCD screens. The graphics are incredible. 

Now you might be able to see this lighting here, lighting that's called ambient lighting. So we'll select "ambient lighting." I wanna select the color. And it's kind of a, kind of a blueish. I prefer a nice purple myself. And there's our ambient light. There's also other settings. There's welcome lights. There's displays that will go on, but we'll just keep it constant. 

Now, if we want some radio, we can just touch that. This is HD Radio™, hybrid digital. Not just analog. So, we've got our music playing… 

Ah, maybe we want to go somewhere. So let's try our navigation system. And this is what we call 3D navigation. Here we go. And maybe we want to zoom out a little on that display. Now there is something called augmented reality. When we're driving along, we're looking at the road — an animated vision of the road. But as soon as it's time to make a right turn, let's say, the front camera turns on, and this becomes reality. And then if you've ever had the experience where, "Gee, where's 300 ft?" They actually put a banner right on top of the real street so you can see where to turn. It's pretty cool.  Now, Mercedes-Benz also with this car has introduced virtual reality.

So I can talk to this car:

"Hey, Mercedes!"

"Hello. How can I help you?"

"Can you chance the radio station to 105.1?"

"There is some nice Hawaiian music."

Now you've heard all about the Mercedes-Benz A-Class. It's time to come down and take a test drive. We'd love to have you. We're located right here at 818 Kapiolani Blvd. in Honolulu. My name is Dale Payson, and on behalf of all of us here at Mercedes-Benz of Honolulu, mahalo and aloha.
Put the Mercedes-Benz A-Class Reviews to the Test
Climb inside the new A-Class at Mercedes-Benz of Honolulu near Waipahu, and learn why CarandDriver has said, "Inside, the A-Class raises the bar compared with many entry-luxury compact competitors." Along with being surrounded by a comfortable cabin, you'll enjoy exciting performance and head-turning design on the Mililani and Kailua roads. Contact us today to learn more!