What is Mercedes-Benz Car-to-X Communication?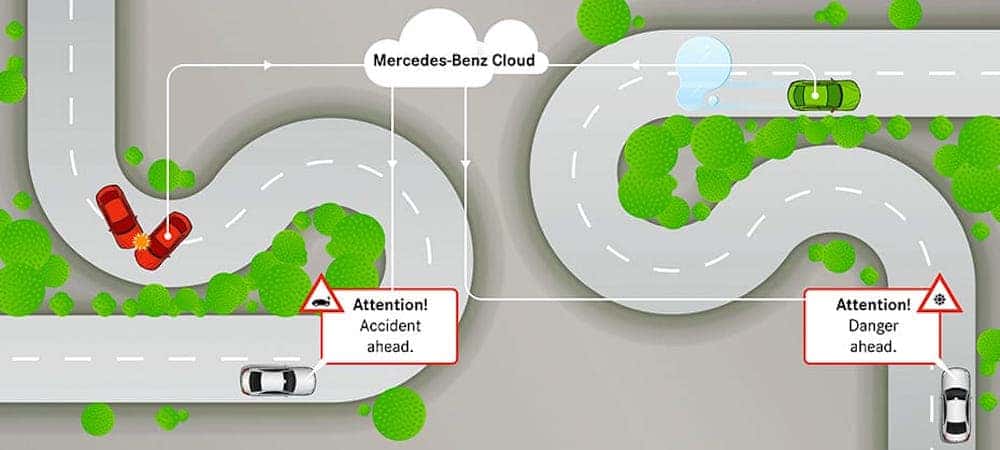 Extend your knowledge of the road ahead past your line of sight with Mercedes-Benz Car-to-X Communication. This unique car-to-car communication feature allows your new Mercedes-Benz to communicate with other vehicles and traffic structures, alerting you to potential issues on Waipahu streets. Discover the benefits of this advanced technology as Mercedes-Benz of Honolulu guides you through how Car-to-X Communication works.
What Are the Car-to-X Communication Functions?
Functioning completely autonomously, this car-to-car communication system delivers important information to you and other drivers. The Car-to-X Communication feature works by:
Trading information with traffic infrastructure via radio, like traffic lights and vehicles around Mililani
Providing other Kailua drivers with warnings and alerts
Receiving hazard warnings, then comparing the hazard's location to that of the vehicle
Providing you with audible and visual alerts when you approach a hazard so that you can prepare for the situation or adjust driving patterns
What Information Does Car-to-X Communication Offer?
When Mercedes-Benz drivers take advantage of this latest in car-to-car communication technology, they can gain access to an abundance of information to improve their driving experience around Kapolei. Car-to-X Communication can provide drivers alerts that can help them avoid accidents or delays thanks to:
Alerts to accidents
Notifications regarding areas with heavy traffic congestion
Warnings of wrong-way drivers
Notifications of emergency vehicles approaching and from which direction
What Are the Benefits of Car-to-Car Communication?
Mercedes-Benz Car-to-X Communication helps flesh out the full picture of what's happening on the roadways around you in Kaneohe. By accessing the information outlined above, drivers have the ability to:
Avoid time lost in traffic jams by changing their routes
Keep alert to potential causes of accidents
Be alert to emergency vehicles and pull to the side of the road
Improve area traffic flow by avoiding accidents and rerouting their path
To expand on these benefits and create a more connected roadway system, Mercedes-Benz is working with dealers to expand car-to-car communications. They're also working to integrate a customer's iPhone® with their vehicle through their Drive Kit Plus release.
Discover Other Mercedes-Benz Technologies at Mercedes-Benz of Honolulu
Along with Car-to-X Communication technology, Mercedes-Benz delivers a bounty of additional tech to improve your trips around Aiea. To try these features out first hand, reach out to us today at Mercedes-Benz of Honolulu. We can demonstrate a variety of Mercedes-Benz tech, such as the COMAND® system, PRESAFE®, and KEYLESS GO® and KEYLESS START®, to help you find the features you need!