Mercedes-Benz DISTRONIC PLUS®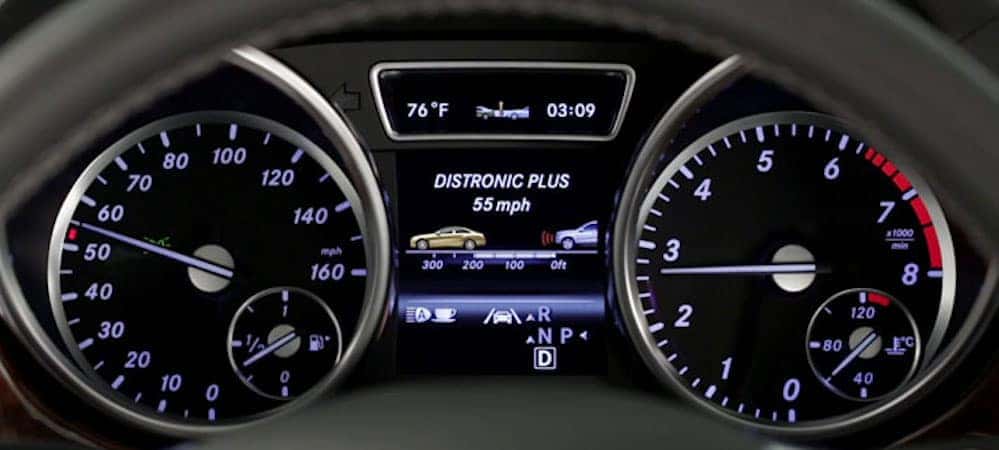 Mercedes-Benz DISTRONIC PLUS® is an advanced driver assist system that gives Mililani and Ewa Beach peace of mind on the road. Learn more about DISTRONIC PLUS® below.
What is DISTRONIC PLUS®?
Mercedes-Benz DISTRONIC PLUS® is available on the Mercedes-Benz C-Class, E-Class, GLC, and many other Mercedes-Benz vehicles. DISTRONIC PLUS® is an advanced adaptive cruise control system that automatically accelerates, brakes, and keeps an adequate distance from the vehicle ahead. What's more, DISTRONIC PLUS® with Steering Assist also keeps drivers from straying outside of their lane.
How Does DISTRONIC PLUS® Work?
When there are no vehicles in front of you, DISTRONIC PLUS® will operate in the same manner as the regular Mercedes-Benz cruise control system. When you do run into a little bit of traffic, though, DISTRONIC PLUS® has the ability to slow down or come to a complete stop at speeds from 20-125 mph by using up to 40% of the vehicle's braking force. If more than 40% of brake force is needed to safely stop your vehicle, you'll receive audible and visual warnings telling you to apply more braking force.
How to Activate DISTRONIC PLUS®
Set your cruise control by accelerating to 20 mph or more. After that, move the lever on the left side of your steering column up or down to the point of resistance. You can increase and decrease your speed this way as well. Additionally, you can rotate the end of the cruise control lever to adjust the distance between you and the vehicle ahead of you.
Learn More About DISTRONIC PLUS® at Mercedes-Benz of Honolulu!
Learn more about Mercedes-Benz DISTRONIC PLUS® by contacting us at Mercedes-Benz of Honolulu today. We're happy to answer any of your questions, whether you're curious about our service specials or our inventory of new Mercedes-Benz vehicles!