The Aloha Spirit – Stan Mull
Stan Mull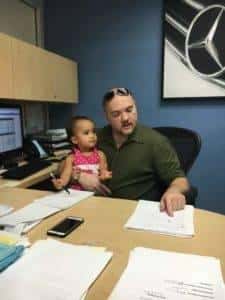 Stan Mull – Your Service Manager
Meet Stan Mull, your Mercedes-Benz of Honolulu Service Manager since January of 2014. Stan started his career off in the car business a little over 20 years ago. Working his way to the top he spent time getting to know all aspects of the service department, which helped to make him the expert that he is today. Stan worked as a delivery driver, service adviser, assistant manager, and then eventually gaining the title and position of service manager.
How I got to where I am
Before starting his dream career, Stan was enrolled in the Navy, which can be credited to turning his life into what it is today. "The Navy brought me to Hawaii in 1989 and I have been here ever since. It was because of the move that I met my beautiful wife of 23 years and had our two perfect boys. I left the Navy the year I met my wife in 1992 and i'm happy that my life took the turn that it did!
The aloha spirit
Stan's favorite thing about Hawaii, and coincidentally his favorite thing about working for Fletcher Jones, is the aloha spirit. "Your friends are more like your family and that is unbeatable. Working at Mercedes-Benz of Honolulu most days doesn't feel like I'm working at a dealership. The level of professionalism and the standard that you are held to is high. I imagine that this is what working at a luxury hotel is like."
Living life to the fullest
Stan is a family man at work and outside of work. In the photo above you will see Stan with his favorite granddaughter, teaching her what working hard is like! If you ask the people that know him best, they would tell you that they are spoiled by him. But if you ask Stan, he'd tell you that he spoils his wife most. Stan is very active, he is a member of a local church, and aside from the work that he does at church and at Fletcher Jones, you will probably see him reading, enjoying a good movie, and taking advantage of the gorgeous scenery and amazing food that Hawaii has to offer!
Check out our Service Specials and schedule a service appointment! You might even run into Stan!